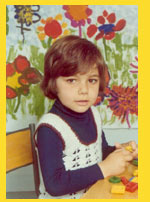 REZA
1970 Naissance en décembre : ce mois-ci sortait l'album Hey America de James Brown et il faisait déjà un carton avec le morceaux « Sex Macchine »
1972 Premier scratch dans mon mange disque avec les 45t de mes frères : j'kiffe.
1983 Tous les dimanches après-midi sur le dance floor de « la Scala » ( mon frère y était videur ), le label : SOLAR.
And the beats goes ooonn…
1992 Emission de radio tous les mercredis à Bondoufle (91) sur S.D.S 101.3 MHZ.
1994 / 1997 Soirées au sein du South Side crew dans divers lieuxde la capitale ( Aquaboulevard, café de la plage, Rex Club, le 20e, péniche…) et en banlieue parisienne.
1998 / 1999 Soirées en solo ou à plusieurs dans divers lieux de la capitale et de la banlieue parisienne.
2000 Rencontre avec Dj JUAN de HI&FLY records et animateur radio du playtime show sur génération 88.2MHZ
2003 Soirées playtime party ( New Morning, Garden, Citéa, Rex Club…) et mix radio
Création de la société de distribution Disc-O-tech.

Listen to the rezamix
49' min

PLAYLIST
1- THE LOVE ULIMITED ORCHESTRA : Do Drop In
2- MEL BROWN'S FIFTH: Luv Potion
3- CLARENCE WHEELER & THE ENFORCERS: Right On
4- DONNY HATAWAY: Little Ghetto Boy
5- RICHARD GROOVE HOLMES: Salsa Del Alma
6- JOE BATAAN: Woman Don't Want To Love Me
7- CREATIVE SOURCE: Corazon
8- BOBBY WOMACK: Daylight
9- OLIVER NELSON: Skull Session
10- WILLARD BURTON: Funky In Here
11- REUBEN WILSON: Back Rub
12- CURTIS MAYFIELD: Love To The People
13- ROBIN KENYATA: Last Tango In Paris
14- WALTER MURPHY: It Ain't Necessarily So
15- JOE THOMAS: Polarized
16- JIMMY Mc GRIFF: Tapioca
17- WANDO: Nega De Obaluae